A History of Surfing in Piha
Plankton was probably the first thing to rule the waves at Piha and in 2000 years it will probably be plankton again.
Surfing in Piha started with the surf clubs, Piha (South)and United (North). Such was the animosity of the split between the two clubs, members still remember wanting to run each over in their cars and never talking to each other even if they were in the same New Zealand Representative Team.
Piha Beach clubbies can claim early influences on surfing from before the war and just after on surf skis, 16' toothpicks (plywood hollowboards), and the Don Wright designed 'tear drop', which also at 16'long, was the forefather of the modern stand up paddle board.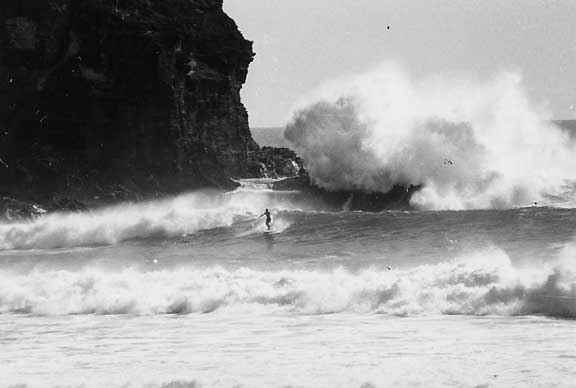 Peter Byers, NZ's first surfboard manufacturer surfing out by Taitomo Is. (Camel Rock), at Piha Beach in 1960. Photo by Jon Severson.
The men, Buddy and Don Cox, Peter and Bruce Byers, Roger and Bruce Curtis, Murray and Gary Bray, Dave Richie etc... with the groms of the time, Dave and Phil Jack and Nick Kinghorn, were there riding waves on anything they could until two Californians turned up with what is now known as the modern surfboard.
Riding waves took on a whole new look as surfers went across the green face of waves rather than straight in to the shore. The men and women of surf clubs all around the country quickly embraced this new development until Surf Life Saving NZ. realised that going across waves encouraged their members to stop cutting their hair, not turn up on time, and worse, to ask questions. This was largely due to surfers preferring to fit in with the tides and swells than man made rules.
The Piha Surf Life Saving Club, (at Piha Beach), was one of the strongest and most successful in New Zealand so it was natural that it's members followed their governing body's lead and moved away from stand up surfing as a part of their culture or training.
This probably explains why the NZ Surfing Nationals, which began in 1963, didn't come to Piha until 11 years later. It was the more rebellious United Surf Club at North Piha which produced New Zealand's first champion surfer in Peter Way. Peter won the inaugural NZ Surfing Nationals at MtMaunganui in 1963. He was the leading man of a culture, a fashion, and a movement away from overly structured existence and it was natural that North Piha would provide the freedom and waves to produce such a champion.
Piha Beach was still the centre of Auckland's surfing scene, but with the dominance of the Piha Surf Club, front and centre, surfers became rebels who were like raiders that came and took the best waves (and anything else their free flowing lifestyles attracted). This only deepened the growing rift between clubbies and surfers.
The renegade Piha surfers (mostly from Auckland), soon found they needed some structure and formed clubs like Hope Ranch, West Way, and North Reef. Another club, the notorious 'Surf Syndicate', was full of wild surfers that rampaged from Queenstown to Kaitaia and on one occasion apparently set light to the Point Boardriders' club rooms on Manu Bay, Raglan. The Surf Syndicate were soon banned by the conservative 'Central North Islanders' running the NZ Surfing Ass. Another illfated boardriders club was Wind'n'Sea whose members were also renown Piha surfers but it folded in 1969 when the treasurer ran off to Canada with all the club's money.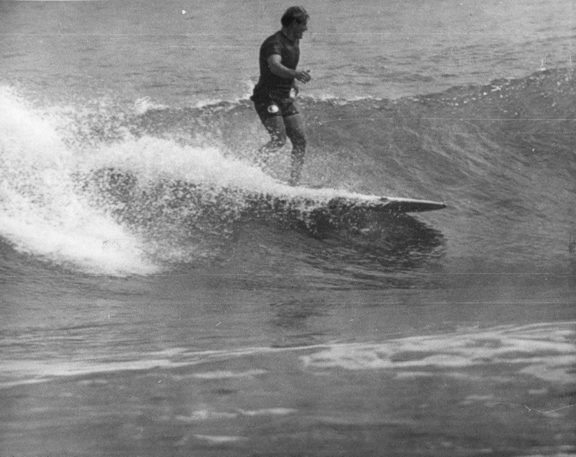 Ronnie Ramon surfing at Piha in 1965. Ronnie was in the NZ Surf Team in 1968 and 1970.
Photo taken by David Reece-George.
The surfers who dominated or featured heavily in Piha waters during those times were Frank and John Cassidy, Ronnie Ramon, Mark Perry, 'Shore boy' Dave 'Taff' Kennings, Clive Baron, Roger Lynden, Russell Scott, Owen Haliday and aggressive 'new style' younger surfers like Wayne Parkes and Jim Carney. Wayne's dominance in Piha waves was total in the mid to late '60's and nationally he created a competition legacy in the open men's division that is still unbeaten. There were also the girls, Jackie Mitchell, Val Tredrea and Penny Whiting who were out ripping it up with the big boys on any given day, the former two winning national Women's titles in '68 and '69 respectively.
By 1970 most of the hard core crew of Surf Syndicate and the likes had gone searching the 'four corners' looking for surf. New faces began emerging in the Piha waves. Again the population base of Auckland provided an endless stream of surfing talent like Graham Gantley, Tony Oglivy, Paul Shanks and Mike Jolly. Relentless hustlers in the water and like so many Auckland surfers, they took their Piha honed aggression to all parts of New Zealand.
With the advent of the modern short board in the early 70's, a new breed of Piha surfer was born. By '76 the surf scene at Piha was so strong that up to 50 cars would pull up to surf the Piha reform, (inside Patiki Rock at the very south end of Piha Beach), on every high tide.
The Piha reform or 'ditch', as it is known today, used to barrel at times and was a battle ground every high tide to the likes of Rod Raily, Peter Furze, Bones, Shane McMinimin, Gary Pike, Brendan Shadbolt, Bazza, the Francis brothers, and Shore raiders, Scott Dudding, Gary Hurring and later the super talented Glover brothers. Mike Glover had his potentially brilliant surfing career cut short when he died in a speeding car on the Piha Rd.
The smoothest surfer of them all during that time was teenager Michael Moult. Bred in Piha, Michael was something else. Hansome and quiet on land, Michael would cause most surfers to stop paddling and watch when he caught a wave. Michael went on to become known as 'Tex' and such was his cult following, 'Tex for Pres' was spray painted in key areas around Piha.
When the tide went out at Piha Beach, everything changed. The surfing moved out to the famous Piha Bar beside Camel Rock which was in its prime. As surfers moved towards smaller boards and twin fins another level of surfer shone. This was before the sand dunes at Piha Beach had been built with earth movers and there was no outer sand 200 meters off the beach to defuse the Tasman swells. Waves would rise up beside the Nun, 6,7,8'+ and peel the length and width of the bay. The standouts in this type of surf were of another class again and while most of the top 'reform' boys surfed well, it was men like the reclusive Brian Cooper with his long L shaped sideboards who suddenly took the limelight.
There were surfer/shapers Roly Stanley, (who set up Fresh Squeezed Surfboards), Jimmy McGiven and Dave McGyver who ripped. There were also Greg Matthews and shore boy, Mike Newdick, who ahead of his time, would bottom turn at speed into a heaving barrel when most surfers were straightening out for their lives. Note must also be made of 'hard woman' Janice Cranch who from the mid '70's who not only ripped on the bar in her bikini, but would deliver blood curdling expletives at any male who dared poke his nose onto her wave.-
During the late '70's and early '80's a nearby right hand point started breaking like something from foreign movies. Piha surfers started rotating from their bar to the point and back. Jagger, Mike Trainer, and a cheeky, fresh faced Darren Cox, son of the Piha Surf Club legend, Buddy, were the stand out tube riders and shredders. The hard core Piha local surfing scene had risen to over a hundred surfers. Most surfed well, with the ones rising to the top being world class.
The quality of the surf in and around Piha between 75 and '85, the intensity of its surfers, and an explosion in surfing, world wide, due to new designs, exploration and surf films, resulted in 5 star contests being brought to Piha featuring top international surfers. Around '82 a big 'Surfabout' contest was held at South Piha and while NZ surfing legend Ian 'Ratso' Buchanan, (future Piha resident and Lion Rock Surf Shop owner), featured in the event, it was the skilled performance of local mailman Brad Lucas making the semi-finals that was most notable. Brad had burst onto the competitive scene at the 1976 Nationals at Piha. He'd argued with his legendary Iron Man father, Buddy, over whether he should compete in the surfing nationals or attend Prime Minister Rob Muldoon's opening of the new Piha Surf Club. The 16 year old, Brad, won the argument and then went on to get 4th in the Juniors by surfing through strong opposition to the final.
This period of Piha surfing is most memorable for the performances of New Zealand's best ever woman surfer, Jeanie Shanks, who in 1975 took the first of the 10 National titles she would win over the next 20 years. Jeanie was born and bred West Auckland, and Piha was her playground. Nobody in N.Z. surfing history, male or female, has better results and when they make a statue for a surfer at Piha, it will be Jeanie.
Knee boarders were also making serious impact with the likes of Clive Reid, the Anderson brothers, Paul and Mike, Zeke Wolf and Craig McDonald, who won the first and last of his 4 national titles 28 years apart. Together they showed how supposed 'disabled' surfers were capable of taking the best waves and getting some of the best tubes.
By the mid eighties most of the surfers of previous eras had moved onto more settled pastures. The new school had arrived and the 'made in Piha' four Byers boys, sons of NZ's first surfboard maker, Peter, were all ripping individually. Maurice, the eldest, had a naturally gifted goofy foot style that could still be used in surfing technique manuals today. Second son, Andy, was the fittest man in the ditch at these times and would shadow ride behind drop in's lampooning them easily without them even knowing he was there. Stu was known as the 'lay forward barrel king' and Warren for his power hacks.
Another fixture in the water was Trevor Shouten who tore on both the bar and in the ditch along with the super rad punkish Boonarts boys, Andy, Pete, and Dave. Dave won a national Junior title while Andy and Carl Chase 'the big wave ace' took over Fresh Squeezed Surfboards until falling on hard times. These guys were all world class surfers but the famous Piha 'party program' would side track most of them.
When Social Welfare Minister, Jenny Shipley told national radio that she was going to put a stop to the 'dole bludging surfer at Piha', everyone knew she meant Trev. Piha definitely laid claim through these years to having the strongest and most competitive Government Surf Team in the country.
There were other notable surfers like Paul Cram, younger brother of top Australian surfer Richard, and Paul Botica another natural foot style master, but the best male competition surfer to come out of Piha during the '80's was Shane 'Grub' Grimes. Shane made a number of New Zealand Teams along with Shore/Piha boy and former skateboard supremo, Peter Baronski and Piha kneelo Clemmy Reid. The NZ team aided by Shane's strong competitive drive, gained a 4th at the World Champs one year and never fell below 6th in others.
By the '90's a new breed of second generation Piha surfer had emerged with the Baron boys, Nat and Chris, Jamie and Brent Parkinson, Dion Read, Aslan and Caleb Perry, Matthew Scott and a lone girl, Anna Jolly. All developed great styles and freakish ability, but Nat and Anna were the only ones to scare anyone on a national level with Anna gaining a Junior Women's title in '91 and Nat a Junior Men's title in '93. On land a big mention must go to Carol Cranch, sister of Janice, whose tireless efforts to develop Piha junior surfing talent during this period is still greatly appreciated.
Unfortunately though, in 1995 it all ended.
The legendary Piha Bar disappeared. The famous reform at the south end of Piha, a.k.a. the 'ditch', became filled in with sand as the man made dunes advanced down the beach and the strong surf culture that Piha had known for 40 years started to fade. Many surfers moved on. Many surfers stopped visiting and plenty more joined the party program. The standard of surfing on a day to day level dropped steadily.
The waves disappeared but the contests kept coming. Piha's strong competitive surfing reputation then fell on the shoulders of a series of goofy footers. The sharp surfing of Bruce Johnson brought reward by winning the huge Hot Buttered Pro in 1998. Larry Fisher grew up in Piha during the '90's and proved like Bruce, that by largely avoiding the party program you could achieve greatness in the sport of surfing. Larry not only honed his remarkable contest prowess at Piha, but also trained as a teacher and was able to combine the two and go on to help run the successful Surfing Academy at Raglan's Area School.
James Reynolds was another goofy to hit it big by making the semi finals of an international Big Air comp at Piha in 2001, faltering in the semis when the tide came in and the swell dropped to 2'. There was also Liam Joyce who had spent all his childhood holidays in Piha and knew the beach like the back of his hand, being one of the few Piha surfers with a strong aerial attack.
The best of the natural footers was Andrew Robinson, the 1995 National Open Champ, who was renown for his freakish precision in big hollow Piha Beach right hand close outs. Israel Hyde regularly dominated any North Piha peak he surfed while Matty Bedford's epic tube riding at 'Caves' capped off over twenty years of shredding Piha waters.
The '90's also produced a new serious dimension in Piha surfing through the improvement of bodyboard design. In all, Piha bodyboarders have won 15 individual NZ titles since 1990. Mihi Wells has 6, Simon Caley 2, Adrian Bray 3, and Floyd Smith who in 2008 won both the Open and the Under 18 events has 4. While the body boarders may not have been cool enough to some surfers, they have been plenty-cool enough to be the single most successful group of surfers in Piha surfing history.
The last 8 years have again been different to all other previous eras. With no set banks, and few Auckland open surfers competing nationally or lighting up its waters, Piha has suddenly produced the highest number of champion grommet (under 16) surfers than any other region.
Whether it's been due to parents embracing the benefits of coaching at younger ages, or just the kids themselves adapting to forever moving sand banks, or the ease at which kids at Piha can get to surf waves using the rips, (when kids at most beaches can't paddle out), or a combination of all three, it's not yet known, (and if it is no one is telling!)
The big question will be whether any of these kids can take early success into their adulthood while balancing work, family and travel commitments. The positives in their favour revolve around surfing now becoming a main stream sport with local schools like Henderson High and Green Bay High each developing competitive surf teams. Piha and Auckland parents are now seeing surfing as a healthy alternative where kids are adhering to the rules on land and in the ocean without conflict. With parents and employers recognising surfing as a sport, there is no longer anything for young surfers to rebel against.
With the dawn of a new millenium, Piha Surf Club and United Surf Club have come full circle and now embrace surfing and encourage their members to surf. With the Piha community finally unified behind surfing as a successful pastime and sport, the interesting thing now will be to see if any of the talented surfers coming out of the surf at Piha can find the pathways required to succeed to the highest level on the international stage.
It will be exciting if they do.
---
Back to Home page